Ipad treasure hunt in Barcelona
It's been more than a month now since I started working for Dreams and Adventures as an intern, and I'm still amazed by everything I experience in this company. Two weeks ago, we were lucky to plan an event for a famous pharmaceutical company. And what better than organizing an Ipad treasure hunt in Barcelona for this international company eager to know the city? Discovering Barcelona while having fun at work is truly the best feeling for a foreigner … as I'm currently experiencing with Dreams!

Getting everything ready for the Ipad treasure hunt in Barcelona
Event day, 15.30, after a calm morning in the office finishing preparing the Gymkhana activity, we're almost on the move, direction city center! First of all, and most importantly, is there anything we could have forgotten? Selena and I had to start checking everything: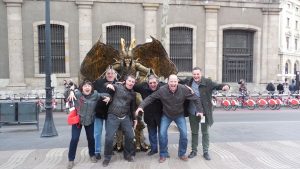 _Ipads and PDF manuals?
_Yes.
_Pen and Paper?
_Yes.
_Rewards?
_Yes.
_Ok, let's go then!
_… Wait! I almost forgot my sunscreen! (Anyone from Northern Europe can relate).
Then, we're finally on our way to meet our client. After a small walk to the bus stop and a nice bus ride, we arrive in the gotic area around 16.30. As the event was starting at 17.00, being half an hour in advance is not unnecessary. Time to check everything again and start waiting for the first movers … and time to put on this sunscreen of mine, as it was really sunny!
First touch
We finally start meeting the first clients, and I'm delighted to hear that most of them speak English! I will then be able to take part in this event, as my Spanish is not good enough yet! Once everyone arrived, we start walking a little bit. Therefore, first contact and time to find a quieter place so we can really start the Ipad treasure hunt. We indeed found an ideal quiet place to talk, as we did not take any microphone. Selena can now start with some icebreakers so that everyone can get to know each other. The participants themselves but us as well! Now, the Gymkhana can start with Selena doing the briefing and giving every tip needed. I watch her doing, and get amazed by how natural she is and how great she connects with our now new friends. But what is this event finally?
In the second place, we can start the briefing and …
We split people in five teams and each team receives an Ipad on which the Gymkhana manual is. Each team will have one hour and a half to do as many challenges as possible! We indeed previously filled the manuals with all kind of multi-tasking and funny challenges so that we involve everybody in this competition. Challenges such as boiling an egg (that we'd previously give to each team) and returning it at the end of the event, taking funny pictures and videos in some of the city's most famous places of interest (so that they can truly discover the city), … Each challenge is worth a certain amount of points, and by the time the event finishes, the team with the highest number of points wins!
Since the main briefing is done, I can do my part and I can check if everyone clearly understood what the whole afternoon is about. I can give the last tips and especially take care that everybody knows how to use the Ipad and the manual (because I know that handling new technologies can sometimes be difficult … As I was actually using my first Ipad with this event!).
… Let the Ipad treasure hunt and fun begins!
Finally, everyone is ready and directly off to walk down Barcelona's streets in search of every point possible. Funny challenges like helping cashiers from "La Boquería" to sell their fruit juices, getting dressed as a clown, taking pictures with human statue from las Ramblas, riddles or all kind of other tasks were being done while Selena and I could supervise them. Our job now was to check that everyone was doing great and safe. So we were following them on the sly while getting amused with all the challenges that they were facing. Sadly time was running out and we should kindly start packing in order to meet all the particip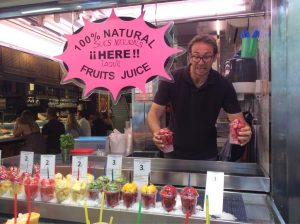 ants and to finish the Ipad treasure hunt.
Once everyone got to the meeting point, we start collecting every Ipads and counting each team's points while browsing every funny pictures and videos. After 5 minutes of doing maths we could finally announce the winning team and deliver them their prizes. Seeing smiles on everybody's faces was so rewarding as we can feel that we didn't organize a simple event for them, but a whole experience around the city of Barcelona! And we will gladly do it again, or in one of the 6 other cities where we're offering Gymkhanas (So that I will be able to discover them as well).
Lastly, time to get home
After taking some pictures of the winning team and the whole group, the day was ending, and the sun was slowly setting down. I could feel like Dreams and Adventures did well today as I'm picturing all the smiles on their faces. It was now time for us to go home … and finally have dinner because I was starting to get very hungry! I was then wandering around in the streets of the old town in order for me to catch my metro, and I caught myself smiling every time I walked by a place of interest where I could imagine each team taking its pictures!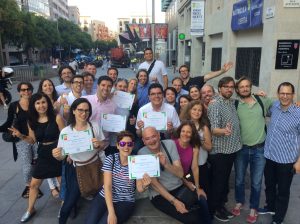 Hughes Martin, intern in Dreams and Adventures.
If you want to book yours and experience this Ipad treasure hunt in Barcelona as well, click here
You can also find more pictures below :