TEAM
BUILDING IN
MALLORCA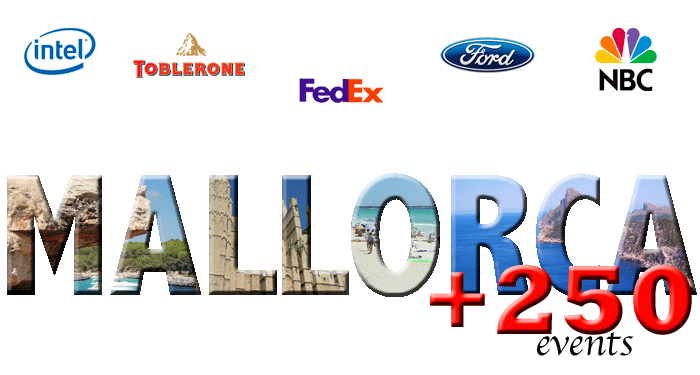 How to organize a Team Building in Mallorca or Ibiza successfully? The Balearic Islands are one of the best destinations for events and incentives for business, highlighting Team Building activities both in Mallorca and Ibiza.
Good Mediterranean climate, beautiful scenery and culture are the perfect combination to make the islands of Mallorca and Ibiza the ideal venue for an event of Team Building place.
The most successful Team building activities in Mallorca are those comprising outdoor recreational programs. For example, adventure sports are a very good choice for Team Building in Mallorca for companies. And the activities with a retro air, hippy or musical are very suitable for Ibiza. The natural diversity of the islands can enjoy both water sports and adventure in the middle of the mountain. Balearics, these islands we have here next, so close to the peninsula are one of the most beautiful islands in the world and fantastic.
For example, activities on the beach and the sea make the most, and the possibilities are many on both islands. The proposals can range from corporate regattas or sailing outings, canoeing, raft building, Olympic games on the beach, sand castle contests, etc. and therefore more playful course, catamaran trips, waterskiing, windsurfing, boat trips to enterprise-wide plan.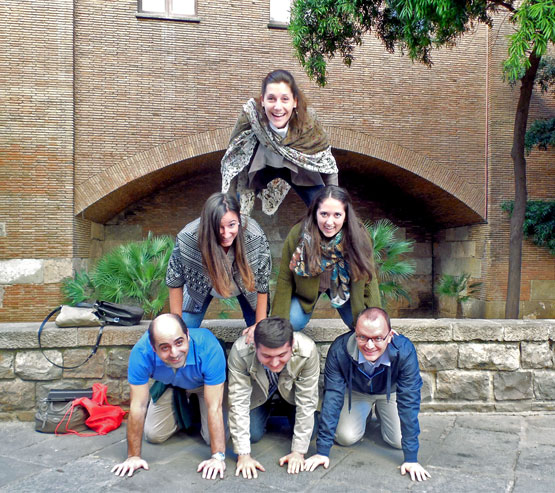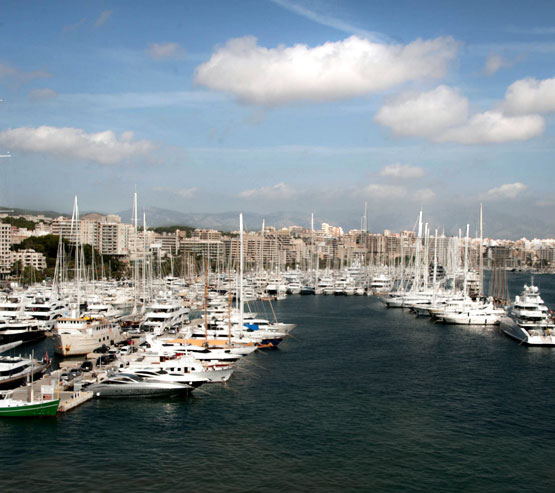 The city rally, gymkhana, or City Games, Treasure Hunt Rally in Palma de Mallorca is one of our urban games to discover the Balearic capital. A circuit is organized around the old town of Palma, with 5 points to visit which we will call "checkpoints". Participant teams must go completed all the gymkhana and pass all the checkpoints where a monitor will be waiting. There will have to pass a test that will take you to other intermediate points, discovering landmarks of the city such as the Church of Santa Eulalia, the market of the Olivar, the Arab Baths, the Cathedral, among other places in the historic center of Palma de Mallorca. And the same goes for Ibiza.
Surely if we plan to organize an event in the spring, summer or fall on the island of Mallorca or Ibiza, doing something on the beach is the best option.
If you choose to enjoy the wonderful mountains for a Team Building event in Mallorca, you can organize sports activities such as archery, hiking, climbing, camping and cycling routes. They can also be combined with sea routes and the best Balearic mountain landscapes, including the famous Sierra de Tramuntana.
The most important value of a Team Building event in Mallorca, beyond enjoying its wonderful beaches, is to design team activities to reinforce and encourage the sense of teamwork and improve interpersonal relationships between partners of the company.
Dreams & Adventures can also organize your event as well, specializing in the best locations on the islands of Mallorca and Ibiza. Do not miss our extensive list of activities designed specifically for Ibiza.
If we want to organize a Team Building activity or experience in Mallorca or Ibiza, first of all, we have to ask a number of questions to be able to choose the best activity and the best place to carry it out. In order to choose a Team Building activity in Mallorca or Ibiza, besides deciding to work with us, you must decide which team building activity you want to perform and where to carry it out.
Okay, you've already found us a trusted provider with many years of experience to organize a great motivational event for your team. The first question we usually do customers is where they want to organize their team building activity, in which physical space and, from there if we confirm a certain place, we will offer activities for this site.
But often, the place is not decisive for the company and in this case we recommend to decide what activity of the many that we can offer do you like, then, once we know your desired activity, we will help you find between our extensive database of spaces (more than 20 places in the province of Mallorca) the one that is the best suited for your Team Building activity.
Therefore, the first question to ask is whether we will give priority to space or, conversely, if space is not critical and you are open to all possible spaces if we are to give priority to the activity.
Should priority or priority space activity? Once we know the answer to this question it is when is our turn to help. And we need to help you to understand your needs better.
Another question to ask is the date of the year: when will we organize this Team Building activity in Mallorca or Ibiza? In winter to avoid the cold, the tendency is to organize indoor activities, although if we notify the participants in advance, and make sure they are all well equipped, we can also organize outdoor activities, for example, gymkhanas in the city of Palma or Ibiza. In spring, summer and autumn, whenever we can, and have time to travel, we will go to any open venue, garden or open space. It is always nice to get out of the hotel and do outdoor activities, so, whenever we can it's better to go outdoors and not to stay in a hotel room. In www.espaciosparaeventos.es  we have more than 20 different locations to make a great Team Building activity in Mallorca or Ibiza.
The next question we have to ask before organizing an event of Team Building in Mallorca or Ibiza is how many attendees will you have? How many people do we want to organize the activity for? Of course, to know the exact number  for a long period in advance is impossible, because people at the last minute can always fail, that is normal and common, but it is important to be clear about how many people will be attending the team building activity that we want to do in Mallorca or Ibiza. For small groups of less than 30 people, there is a type of activity, for medium groups of 30-200 people there are others that are more suitable, and for large groups of more than 200 people there other activities. There are also Team Building activities that are more suitable for large groups of more than 500 people.
Where are the participants from? And, how long does it take them to get here? This is also important to know. Where will these people be before going to the place of activity? It's not the same having to think about an activity for people who are gathered in a hotel in the center of Mallorca, for employees of a company that everyone will meet in the morning in the same office or for people who go by their own cars and from their home to the chosen location. The place from which to depart conditions the logistics and commuting times. And this is important to know because this information will be crucial to choose the place.
In Ibiza, we specialized events which have been inspired by the traditions of this island, the customs and singular life of Ibiza. Benirràs Beach is known for sessions in which drums are played during the magical sunset on Sunday afternoons during the summer. People gather in this place to play drums during the evening hours. Thinking about this Ibizan tradition, we will offer our guests to play at one of these sessions that take place on the beach Benirràs but in a private venue. We also have a Hippy rally in 4 × 4 vehicles.
A very important question we always ask the caller interested in organizing a team building activity in Mallorca or Ibiza is, what is the relationship of the organizer with the participants?. And often, we realize that our partners don't quite understand the question.
We need to know what the relationship is between the company that pays the bill and who will participate in the activity. Although many people, including professionals in the MICE sector, do not see the importance of this question, that question is fundamental. And it is important because the type of team building activity we can do in Mallorca could be different in terms of this relationship. It has nothing to do if you have a group of an American sales force for a brand of tires (relation of employer and employee), with a group of technical engineers that own their own businesses or distributors of a brand of tractors (relationship supplier and distributor) or with a group of guests orthopedic surgeons with their wives for a pharmaceutical company that are attending a conference (possible prescribers and company). Each of these profiles of people requires a different treatment, with different activities and, sometimes, in different spaces.
Where are the participants from? Are they Spanish? Are they from Mallorca or Ibiza? Are they foreigners? And, if they are foreigners, where are they from? The events that can be organized for people who live in Mallorca have nothing to do with that recommended organizing for people who travel to Mallorca from the rest of Spain, throughout Europe, Asia, or the Americas. According to the place of origin their culture will also vary, this determines how they relate to each other when doing team activities. We have organized activities for people of various nationalities on many occasions and we know the tastes and needs according to the geographical area of their origin. One example is a group of foreigners who are three days in a hotel and that during the three days are almost all the time gathered at his hotel.
What do we recommend them to do? How about a treasure hunt activity in the city center of Mallorca, because we know that these people can not leave Mallorca without at least having experienced the most important and memorable parts of this city, its palaces, and its promenade and in the case of Ibiza, as some also in the city, but most likely something also in a special place such as restaurant and nightclub, Lio, the Pacha group or some very Ibizan site as the club Km.5
Ibiza is an excellent place for creative events. For any firm that wants to prove to be at the forefront of fashion, music tracks, etc. Ibizan nightlife is the first thing many people come to mind when thinking of the island of Ibiza. Ibiza has on its territory the largest and most prestigious clubs in the world, the most famous DJs and is a world leader in music trends. The big clubs such as Privilege, Pacha, Amnesia, and compete with each other to fill their capacities. In one of the scenarios in which this is most evident it is in the parades of people employed by these clubs, which run every day to walk along the beaches and streets of downtown Ibiza city to attract attention and promote a particular discotheque. Given these parades as a reference guide and inspiration, one of the activities we do in Ibiza is inviting participants to organize themselves into teams and suggest you let your imagination and creativity to invent the name of a nightclub, built their own clothes, prepare their billboards and finally, take part in our great competition promotional parades.
The next question before carrying out an event in Mallorca or Ibiza should be: what environment we want to do the activity? In the center of Mallorca or Ibiza? In a hotel room? one of the farms there around town? In the Mountain? How many km. from the city of Palma de Mallorca or Ibiza town can they walk away at most? These are all questions that will help us select the activity and space to carry out and live the experience of Team Building in Mallorca or Ibiza.
It is also necessary to understand what activity program is included. Is the activity will be part of some kind of meeting? Is it a convention? Are we talking about an incentive trip? At that meeting, is there a motto or phrase or leitmotif for the entire meeting? The more we know the better we can choose meeting activity and space to carry out the same.
Another very important question is to know what we want to achieve with Team Building activity we do in Mallorca or Ibiza. What is the objective of the client organizing this activity Team Building in Mallorca or Ibiza? To motivate? Create sensation and team spirit? Entertain? Form? Foster personal relationships among participants? Yes, we know, many times, they want to achieve all these goals, but if we can prioritize and define the three most sought after in order of importance, so much the better. The more we understand the objectives to achieve, the easier it will offer an activity that these objectives and better profitability get the customer approach to investment. Therefore, it is necessary to determine this.
Another question to ask is what kind of experience are we looking for? A musical experience? Artistic? Motorsport? The type of experience will strongly determine things that that group has done before. If last year they did something with music, this year we can surprise them with painting or something but with a different musical style. If last year we did some activity in the city this year we can surprise them with a multi-challenge type activity with different tests. How about something completely innovative and adapted to the island of Ibiza as a party Flower Power? Flower Power party of Ibiza is one of the most famous festivals of the island of Ibiza. A celebration commemorating the spirit of Ibiza Hippie 60s, 70 and 80. In our particular and as, Flower Power party will invite participants to dress Hippies offering a wide variety of necklaces, caps and hats, wigs, shirts flowers, etc. It will not lack makeup for those who want to create their own fantasies and surprise everyone. At the scheduled time and place that will have reserved for it, our guests come to the party and before going through the same should go through the "Photo Call" where our photographer it commits them to have a memory for eternity. Our DJ will liven up the evening with them the best music from the 60s, 70s, and 80s. Our gogos shall also be acclimated with hippie clothes and big wigs in the style of the 60s And to top it off, some surprises, with some action, flares for everyone and the invitation to joint participation to sing some of the famous songs Beatles. Can you imagine?
Seen from the point of view of the degree of physical activity, it is not the same to set up an orientation test the countryside where all compete walking (or running) for a circuit of one to three kilometers to organize an event of painting where all together they paint a big picture in true Mediterranean style. Can you imagine? How much physical activity are we looking for? Are young people and want something very active, or are elderly and want something less physical? Or maybe you want something other than anything physical and is type board games like strategy games? We have to ask ourselves this question we have to ask why we think so. And have answers.
And finally, another very important question that often nobody knows or nobody wants to answer, is the million dollar question what we budget for the activity? Having this information is vital because it does not waste time or we will lose others, contemplating activities or spaces that are out of our budget.
If before organizing an event of Team Building in Mallorca or Ibiza, we get all these questions, do some preliminary work to get the maximum number of answers to these questions and we already have clear answers to all or most of them, we will be prepared to speak to a specialist and advise us and, from there, choose the most appropriate activity for the group and make a great Team Building event in Mallorca.
Dreams & Adventures we specialize in helping you. We have the experience, knowledge and professionalism to hear what your needs and offer the best ideas. Here we have given some of these ideas, but the chances, in most cases, are endless.
You can get tested and practice answering all the questions we ask you at our events, using different filtering levels or find yourself from our extensive catalog of Team Building activities on our website or, if you prefer, call us, we will do all of these questions, tell us your needs and we will spend the best ideas with the corresponding budget.
Are you ready to Mallorca or Ibiza?
The famous flea market "Hippy" Las Dalias, you can visit every Saturday and there is a large influx of people, especially from 1 May to 31 October. In this market, you can find Adlib, costume jewelry, sandalwood, exotic musical instruments, ethnic music CDs, jewelry, decorative fabrics, figurines, Hindu antiques, sarongs, books and more. Inspired by the artisans market Las Dalias we have created an event where participants will receive training these craftsmen, the necessary materials, tools and invite them to create their own Ibizan handicrafts.
We will wait for you. Call us.