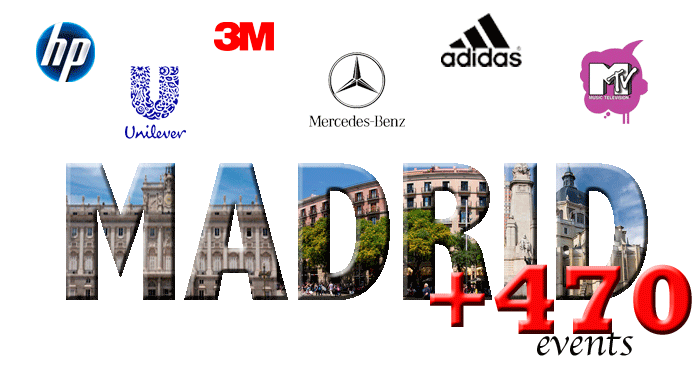 Team Building in Madrid. Discover all the possibilities offered by the capital of Spain.
Here we give you some ideas of Team Building in Madrid. But we have more.
Are you planning to organize a Team-Building activity in Madrid?
Team Building activities are specifically designed to help workers in an enterprise to work together. Our role in Dreams and Adventures is to create the most suitable Team Building experience matching the needs of the company that hires our services, where and when the business needs it. For this reason, we are used to making Team Building events in many different parts of the country and Madrid is a city we are very familiar with.
The Spanish capital is an ideal location to conduct Team Building activities and one of the favorite destinations that companies very often pick. Madrid is great, a beautiful city with many interesting places to see.
Choose Madrid as the city to host a Team Building event, it is an excellent choice to ensure the success of the day, both for participants and organizers.
The options that Madrid offers are plenty. We have the Sierra de Guadarrama a few kilometers from the city. A beautiful mountain range, ideal for team building events.
We also have the Retiro park in the city center, one of the many beautiful parks in the city. The Retiro is ideal for those who do not feel like moving to the suburbs but want to escape the city for Team Building activities in Madrid. Retiro Park is located in the center of the city and occasionally also used for activities and urban gymkhana. Retiro Park was made towards 1774, as the city zoo, and since then is one of the most emblematic places in the capital of Spain.
Retiro is located the in nature and it has a large lake, where you can perform various activities, but the most popular is rowing in small boats.
San Juan's Lake is also a good location for many of our activities of aquatic character.
These are perfect activities to be performed in Madrid With a Team Building purpose. The dimensions and characteristics of this lake make the activities on it always a hit. And there is not only San Juan´s lake. In the Madrid mountains there are many other natural lakes of great beauty that also pose as ideal locations for Team Building activities in Madrid.
Madrid is a city full of attractions: museums of international importance, theaters where the most prestigious national and international companies perform, shopping centers with the best brands, restaurants of the highest quality, luxurious hotels, in Madrid you will find all the amenities you would need to organize a top class Team Building event.
The Plaza del Sol, Gran Via, the old town, the Prado Museum and the Royal Palace are landmarks.
The most ideal place for an urban gymkhana in Madrid, is called Madrid de Los Austrias, with its streets full of history, full of beauty and a unique character, where the activities become a game in which you will learn the values of teamwork in a fun manner and while learning things related to the history of the city.
Madrid is a city full of life, with lots of activity, not only during the day but also at night. In the city center, there are dozens of different topics that fit our gymkhana excellently.
We have spent many years organizing activities Team Building in Madrid. And of course, we can help. We love to help you achieve your goals. But … where do we start?
If we want to organize an activity or experience for Team Building in Madrid, capital of Spain, before all, we ask a number of questions to be able to choose the best activity and the best place to carry it out. To choose a Team Building activity in Madrid, besides deciding to work with us, you must decide which team building activity you are going to do and where we will carry it out. Are you prepared to reflect a little?
The possibilities are endless. Our catalog is very broad. We have more than 500 ideas. Let's see what needs to be done to organize, in the best way, your Team Building activity in Madrid. Some of our activities are specific to Madrid, others work anywhere. Let us begin.
Okay, you've already found us, a well-trusted provider with more than 20 years of experience to organize a great motivational event for your team. Let's get to work. The first question we usually ask our customers and the one we want to make now to you is, where they want to organize your Team Building in Madrid because Madrid is a very large city and the possibilities are many, from there, if we confirm a certain place, we will offer activities for this site. But often, the place is not decisive for the company and in this case we recommend to decide which activity you like of many that we can offer, then, once we know your desired activity, we will help you find between our extensive database for spaces (more than 80 locations in the province of Madrid) the one that best suits you for the Team Building activity selected.
Therefore, the first question to ask is whether we will give priority to space, or conversely, if space is not critical and you are open to all possible spaces, we can give priority to the activity. Our goal is to guide you in the selection process to make sure your Team Building activity is a success.
If your priority is the activity go to our events, select Madrid, and the tool will give you a range of activities you can do in Madrid. And if you prefer, an even better option, talk to us. Once we know the answer to this question we come in to help. We will need to talk to you and help you to have a better understanding of your needs.
One of the first questions to ask is the date:
When do we organize this Team Building activity?
It gets cold in Madrid during the winter, and to avoid the cold, the tendency is to organize indoor activities, although, we are well equipped, so we can also organize outdoor activities, both gymkhanas throughout the city (the Old Madrid: Plaza del Sol, Royal Palace, Plaza Mayor, etc.) and in one of the many venues that are in the vicinity (House Monico, Palace Negralejo, La Posta Real, etc.) as well as the mountain.
Around Madrid there are towns like El Escorial, Pinto, Cercedilla, Chinchon, etc., which are great places to do any kind of event. Both on the road to Burgos, as well as Coruña and Barcelona we have a lot of possibilities. Westwards too. In spring, summer and autumn, whenever we can, and have time to travel, we will go to any outdoor venue, garden or open space. It is always nice to get out of the office to do outdoor activities, so, whenever we can it's better to go outdoors, opposite to staying in a hotel space or the office.
In espaciosparaeventos.es we have over 80 different spaces to make a Team Building event in Madrid. You can check it by signing up and asking us to accept your application, this way, you can look for yourself or contact us for us advise you.
All sites that we recommend in our specialized web are available spaces, but we like to work in places that we know as House Monico, El Cortijo de Monico, Palace Negralejo, La Posta Real, Aldea Santillana, El Castillo de Viñuelas, La Quinta de Jarama or La Alquería among others. Before we can advise you need to tell us what your goal is.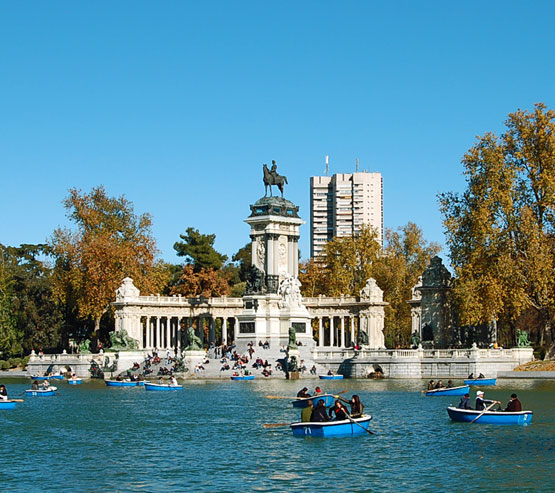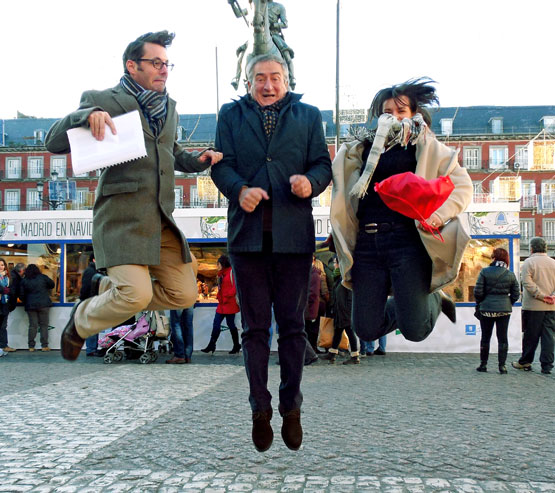 The next question we have to ask is…
How many people want to participate in the activity?
Of course, to know the exact number is impossible beforehand because at the last minute people can always fail to attend. That's normal and usual in every single event, but it is important to be clear about the estimate on how many people will be doing the activity in Madrid. For small groups of less than 30 people there is a kind of activity (usually gymkhanas town or games room) that do not require a large deployment of resources and thus you can organize at a very affordable price, for medium-sized groups from 30 to 200 people there are other activities that are more appropriate for this size of group, the most common is a multi-challenge, in a private space, with five tests, in which participants rotate in an organized manner, this is always a success and, for large groups, of more than 200 people there are other activities, like painting a picture together, composing music, etc.
There are also Team Building activities that are more suitable for large groups of more than 500 people (like making company logo together, painting a big wall all of us together using graffiti spray paint, etc.).
Where are the participants and how long will they be there?
This is also important to know. Where are these people going to be before moving to the place of activity? In a room at the Hotel? at home? It's not the same having to think about an activity for people who are gathered in a hotel in the center of Madrid, than an activity for employees of a company that will meet in the morning in their office, or for people who go by their own cars from their home to the place that's been chosen.
The place from which to depart conditions the logistics and commuting times. And this is important to know because this information will be crucial to choose the place. For a company that is in the area of La Moraleja, by proximity, it will make more sense to go to a farm that is down the road of the A1.
A very important question we always ask people who call us interested in organizing a team building activity in Madrid is, what is the relationship of the organizer with the participants. And often, we realize that our partners don't always understand why we ask this question.
When we talk about the organizer do not know if we are referring to the person who takes care of this within the company (the "meeting planner"), the agency or DMC organizer. Sometimes we have to clarify. And the way to make this clear is by answering that question, what is the relationship between the company that pays the bill and the people who will participate in the activity?
A Team Building activity is used differently depending on the terms of this relationship. There is a difference between a group of the Italian sales force for a brand of tires (relation of employer and employee), with a group of cosmetics distributors for a cosmetics brand (supplier and distributor relationship), or with a group of guests formed by medical team with their wives for a pharmaceutical laboratory (possibly a prescriber and company relationship). Each requires a different treatment, with different activities and, sometimes, in different spaces.
But let's continue asking questions …
Where are the participants? Are they in Spain? In Madrid? Around Madrid?. If they are foreigners, where are they from?. We have organized activities on many occasions, and we know the tastes and needs according to the geographical area of their origin. One example is a group of foreigners who spend three days in a hotel, and that during the three days they are almost all the time gathered indoors. What do we recommend? An activity for the city center, we know that these people can not leave Madrid without at least having a glimpse of the most important part of this city, the center.
The next question we have to ask should be: what environment we want to do the activity in? In the center of Madrid? In a hotel room? on a farm? In the mountain? How far from the hotel can we choose the space? These are all questions that will help us select the activity and space to carry out and make this Team Building experience the best you can expect.
It is also necessary to understand what activity program the activity is included. Will the activity be part of some kind of meeting? Is it a convention? Is it an incentive trip? At that meeting, is there a slogan, phrase, or "leitmotif"? Do we want to link the purpose of the meeting with the activity? Do we want the activity to serve to reinforce the message or some of the messages of the meeting? The more we know about what you want to organize in Madrid, the better we can choose the activity and space to carry it out.
Another very important question is to know what do we want to achieve with this Team Building activity. What is the client's objective for organizing this Team Building activity in Madrid? To motivate? to create sensations and team spirit? entertain? form? to foster the personal relationships among participants? Yes, we know, many times, they want to achieve all these goals, but if we can prioritize and define the three most important, all the better. The more we understand the objectives to achieve, the easier it will be to offer an activity that matches these objectives.
Another question to ask is what kind of experience you are looking for? A musical experience? artistic?, Of motorsport? The type of experience will be strongly determined by things that that group has done before. If last year they did something with 4 × 4 vehicles, this year we can surprise them with something with paint or a musical activity. If last year they had a musical activity this year we can surprise them with a treasure hunt-like activity with different tests.
Is the average profile of people physically fit?. How much physical activity are we looking for? Are they young people and want something very active, or are they elderly and want something less physical? Or maybe you want something other than anything physical and is type board games like strategy games? We have to ask ourselves this question we have to ask why we think so. And have answers. The more we reflect the more likely the activity will be a success.
And finally, another very important question that often nobody knows or nobody wants to answer, the big question, what is the budget for the activity? Having this information is vital because it does not waste time contemplating activities or spaces that are out of our budget.
At Dreams & Adventures, we specialize in helping you. We have the experience, knowledge and professionalism to hear what your needs are and offer the best ideas to make a Team Building activity in Madrid. Here we have given you some of these ideas, but the opportunities, in most cases, are endless. Talk to us.