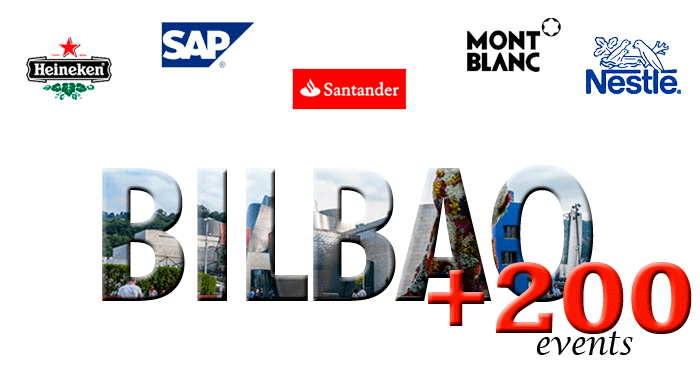 Team Building in Bilbao, tradition and innovation in the Spanish north. Every day more companies in Spain are interested in investing in performing activities of Team Building.
Now, the trend of Team Building has spread to the north of the peninsula and is having a particular impact on the Basque capital. Each time more Team Building is done in Bilbao.
Companies not only Bilbao's but also national and foreign who decide to visit this place, choose to perform activities of Team Building in Bilbao, due to the comforts and advantages of this city.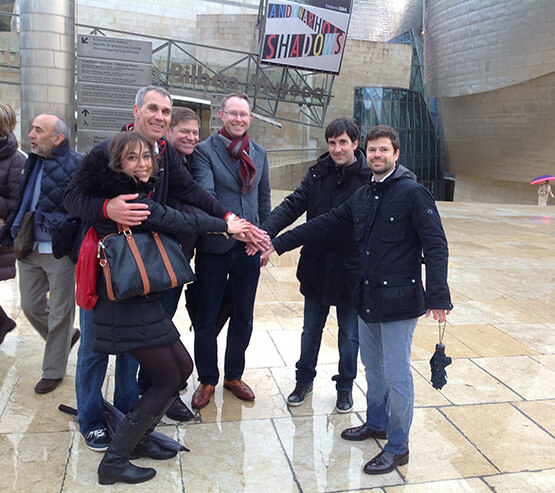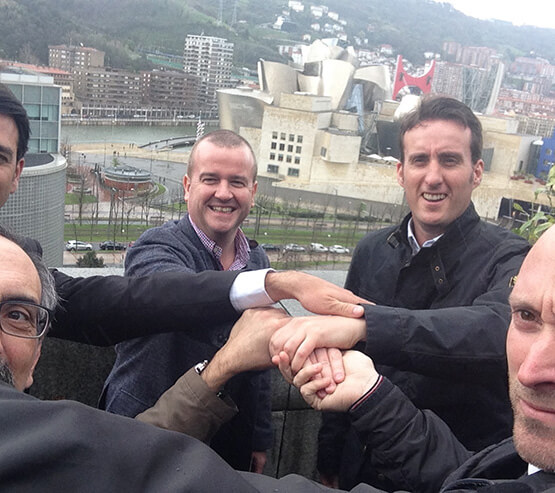 The Team Building in Bilbao has been greatly enhanced thanks to a lot of investment in placing the city on the map, improving its communication channels: the new metro has been built, which has improved transportation within the city, the New Airport, designed by Santiago Calatrava, to promote foreign and national tourism etc.
For the Team Building in Bilbao, we find a completely new city since the construction of the Guggenheim Museum Bilbao, designed by the Canadian architect Frank O. Gehry. The nerve center of the capital has moved to the side of the Nervión estuary, where the museum is also located. The Team Building events in Bilbao are usually held in the most important area of the city, and on the right side of a museum of such magnitude and such a beautiful river, they ensure a good reception from the participants.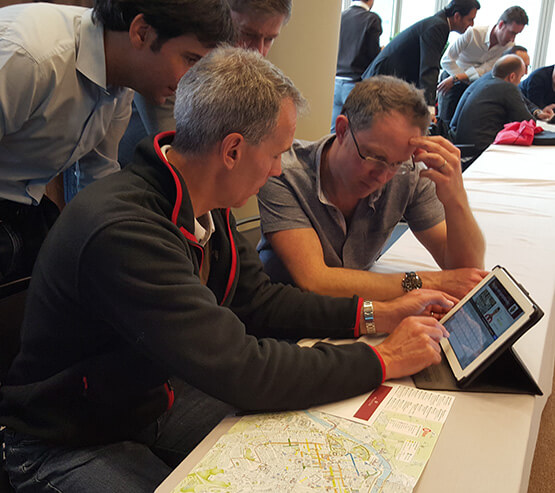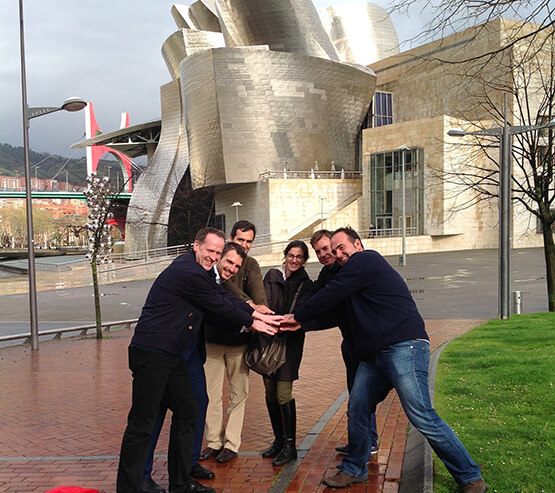 The best place to do Team Building in Bilbao is probably the old town, known by locals as "the Seven Streets". A neighborhood with its own personality, famous thanks to the bars and restaurants where they serve, among other dishes, the typical Basque tapas and txikitos, a glass of Basque white wine and for being a place that never sleeps and full of life.
The city of Bilbao has always been a cosmopolitan place, with tolerant and open people; the transport networks have expanded their field, the infrastructures have been improved and if we add an unforgettable natural setting, all this makes the Team Building in Bilbao more and more popular.
If we want to organize an activity or experience of Team Building in Bilbao, we must first ask ourselves a series of questions in order to choose the best activity and the best place to carry it out. Because to choose a Team Building in Bilbao, apart from deciding to work with us, then you must decide which activity of Team Building you are going to carry out and where we will carry it out.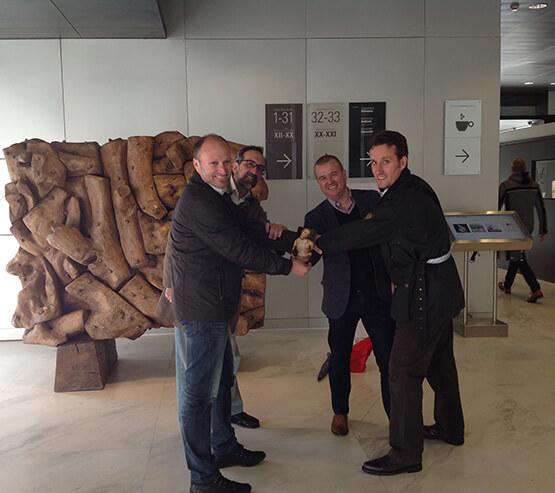 Okay, you've found us the trusted provider with more than 20 years of experience to organize a great motivational event for your team. The first question we usually ask customers is where they want to organize your Team Building in Bilbao and, from there, if we confirm a certain place, we will offer activities for this location. But often, the place is not decisive for the company and in this case we recommend to decide before what activity likes of many that can offer and, then, once we know your desired activity, we help you find between our extensive database spaces (more than 80 locations in the province of Bilbao) best suited for Team Building activity selected.
Therefore, the first question to ask is whether we will give priority to space or, conversely, if space is not critical and are open to all possible spaces if we are to give priority to the activity.
Should we prioritize space or activity? Once we know the answer to this question it is our turn to help. And we need to help you better understand your needs.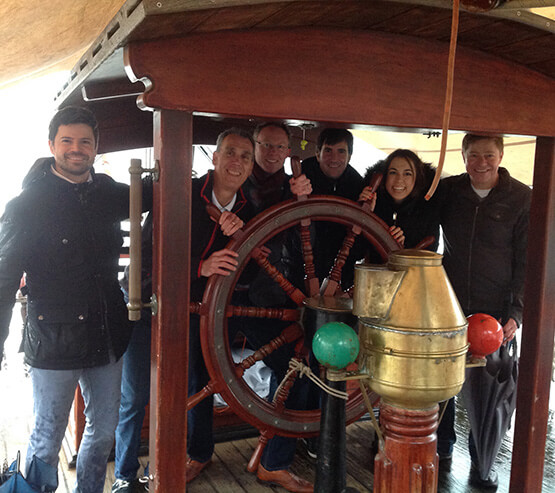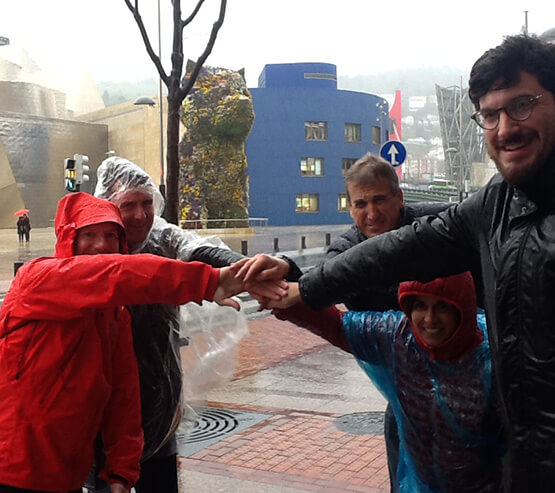 A sporting event that locals practice from very young is pelota, which is a real popular game played in the pediments and the Jai Alai. Basques also like dancing. Like the song, dance has become a social phenomenon. It is a fundamental element of Basque culture and a true form of social expression. From these traditions we can create specific events.
One of the first questions to ask is the date of the year: what date we organize this activity Team Building in Bilbao? In winter to avoid the cold, the tendency is to organize indoor activities (activities indoor), although if participants are notified in advance, and are all well equipped, can also organize outdoor activities, both treasure hunts around the city, as in one of the many farms around there as in mount. In the spring, summer and autumn, whenever we can, and have time to travel, we will go to any farm, garden or open space. It is always nice to get out of the office and outdoor activities, so, whenever we can, it's better go outdoors and not to stay in a hotel room or the same company. In espaciosparaeventos.es we have over 80 different spaces to make a Team Building in Bilbao. La Bodega Berroja, Orue XXI, San Joseren Palace, the Arriaga Theatre, the Champs Elysees Theatre and the Iberdrola Tower are some of the most emblematic of Bilbao places to carry out a corporate event.
And, of course, in the halls of major hotels and other farms we have in our web espaciosparaeventos.es
The next question we have to ask is How many people want to organize the activity? Of course, to know the exact number is impossible before, because at the last minute can always fail to come, this is normal and common, but it is important to be clear about how many people will be the team building activity that we want to do in Bilbao. For small groups of less than 30 people there is a type of activities to medium groups of 30-200 people there are others that are more suitable, and for large groups, more than 200 people there other activities. There are also Team Building activities that are more suitable for large groups and groups of more than 500 people.
One place to do events is the space of the Palace of San Joseren, adapted to all needs that may arise in different events. From private celebrations of a few people to major meetings such as weddings large format group. San Joseren offers self catering also prepared in the same building, and private parking. Everything you need is in San Joseren.
Accommodating up to 500 people, offers a unique setting for organizing all kinds of professional and social events.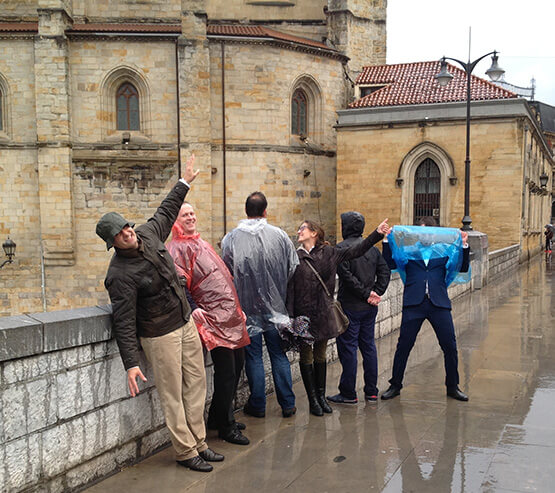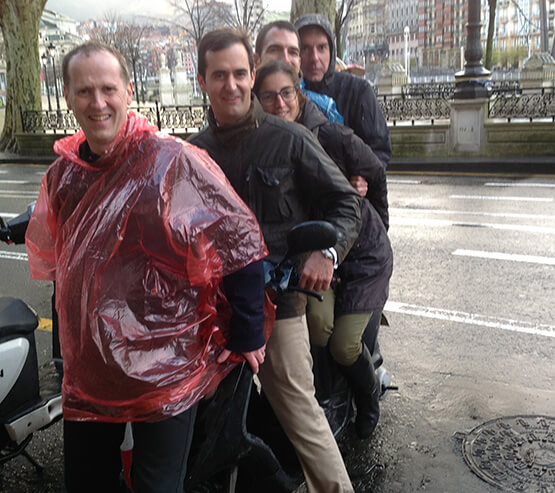 But … Where are the participants and how much time do they have? This is also important to know. Where are these people going to be before going to the location of the activity? It is not the same to have to think about an activity for people who are meeting in a hotel in the center of Bilbao, than for employees of a company who will meet all in the morning in the same company or for people who will go in their own cars and from his house to the chosen place. The place from which depart will determine the logistics and travel times. And, for this reason, it is important to know where they come from because this data will be decisive in choosing the place. The Hotel Melia, El Silken, El Carlton, El Ercilla are hotels that are well prepared for meetings.
A very important question that we always ask the person who calls us interested in organizing a Team Building activity in Bilbao is what is the relation of the organizer with the participants. And, often, we realize that our interlocutors do not just understand the reason for this question. When we talk about the organizer they do not know if we refer to the person who deals with this within the company (the "meeting planner"), the organizing agency or DMC, the company, etc. and many times we have to clarify it. And the way to be clear is explaining what it is about knowing the relationship between the company that pays the bill and those who are going to participate in the activity, that is if the invoice is paid by a company, what are those people in relation to that company? Even though many people, even MICE professionals do not see the importance of this question, that question is fundamental. And it is fundamental because the type of activity of Team Building that we can do in Bilbao and the place to carry out this Team Building, usually to be different depending on this relationship between both. The term of labor relations refers to the system in which the companies, the workers, and their representatives, and directly or indirectly the administration, interact in order to establish the basic rules that govern the labor relations. It is not optimal to have a group of Basque commercials from a brand of kitchens (employer-employee relationship), with a group of distributors of a car brand (relationship of supplier and distributor), or with a group of psychologists invited together with his wives by a pharmaceutical laboratory (possible prescriber and company). Each of them requires a different treatment, with different activities and, sometimes, in different spaces.
Another key question … Where do the participants come from? Are they are Spanish? Are they from Bilbao? Are they foreign? And in the case that they are foreigners, where are they from? It is not the best option to do the events that can be organized for people who are from Bilbao, with those who are recommended to organize, for people who have come to Bilbao but are from the rest of Spain, from all over Europe, North Europeans or North Americans. We know. We have organized activities for them on many occasions and we know the tastes and needs according to the geographical area of ​​their origin. As an example, a group of foreigners who spend three days in a hotel in and during the three days is basically all the time gathered in their hotel. What will we recommend ?, As an activity in the center of the city, because we know that these people can not leave Bilbao without at least having seen the most important of the center of this city. Due to its history and situation, Bilbao offers a formidable cocktail where architecture, tradition, sea and mountain, character and history combine to offer the visitor endless plans and proposals for leisure and culture.
The next question should be: In what environment do we want to do the activity? In the old town of Bilbao? An interesting itinerary to discover medieval Bilbao, with its cobblestone streets, cantons, squares and charming corners, witnesses of the intense mercantile and port activity that made the Villa grow. Its walls, the Gothic Cathedral of Santiago, the Plaza Nueva, the emblematic church of San Antón and the ancient ruins on which it sits, or the bustling Mercado de la Ribera that welcomes more than 500 years of history and an urban vitality for which it seems that time has not elapsed. In a hotel room? On a farm? In which of them? In the bush? How many kilometers away from Bilbao can we go as far as possible? These are all questions that will help us to select the activity and space were to carry out and live this experience of Team Building in Bilbao.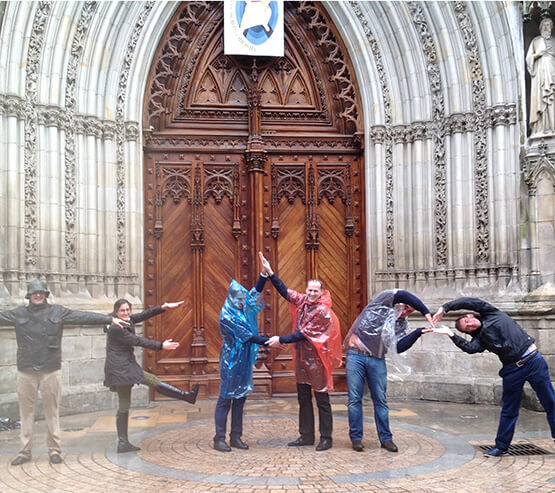 It is also necessary to understand what activity program is included. Is the activity will be part of some kind of meeting? Is it a convention? An incentive trip? At that meeting, is there a slogan, phrase or leitmotiv? The more we know of the meeting and the people who will participate in Team Building better we can choose the activity and space to carry out.
Another very important question is to know what we want to achieve with the Team Building activity that we want to do in Bilbao. What objective does the client pursue by organizing this Team Building activity in Bilbao? Create a team feeling and spirit? entertain? Motivate? Form? To promote personal relationships between participants? Many times, what they want is to achieve all these objectives, but if we are able to prioritize them and define them, the three most sought after in order of importance will be much better. The more we understand the objectives to achieve, the easier it will be to offer an activity that approaches these objectives and the client will obtain the best return on investment.
Seen from the point of view of the degree of physical activity, it is not the same to mount an orientation test for the field where everyone will compete walking (or even running) for a circuit of 3 to 5 kilometers that organize a painting event where everyone together will paint a big picture. What degree of physical activity are we looking for? Are they young people and want something very active, or are they older people and want something less physical? Or maybe we want something that is not anything physical and is kind of board games like strategy games? We have to ask ourselves this question and we have to ask ourselves why we think so. And have answers.
Another question to ask is what kind of experience are we looking for? A musical experience? Artistic? Of the motor world? The type of experience will be strongly determined with things that the same group has done previously. If last year they did 4 × 4, this year we can surprise them with some painting or something musical. If last year they did some musical activity this year we can surprise them with a gymkhana activity with different tests.
And, finally, another very important question that many times nobody knows or nobody wants to answer is the million dollar question. What budget do we have for the activity? Having this information is of vital importance because we will not waste time, nor will we lose the others, contemplating activities or spaces that are outside our budget.
At Dreams & Adventures, we are specialists in helping you. We have the experience, knowledge, and professionalism to listen to your needs and offer you the best ideas. Here we have given you some of those ideas, but the possibilities, in the vast majority of cases, are endless.
If before organizing a Team Building event in Bilbao, we ask all these questions, do some preliminary work to have the maximum number of answers to these questions and we already have very clear answers to all or almost all of them, we will be prepared to talk with a specialist and to advise us and, from there, choose the most appropriate activity for the group and make a great Team Building event in Bilbao.
You can test yourself and practice answering all the questions we ask you in our event search engine, using the different levels of filtering and search yourself among our extensive catalog of Team Building activities on our website or, if you prefer, call us, we will ask you all these questions, tell us your needs and we will pass on the best ideas with the corresponding budget.
What? Are we doing a great Team Building event in Bilbao?